CHUDECKI WILL FACE A BIG CHALLENGE
Editor, Global Boxing
2013-05-27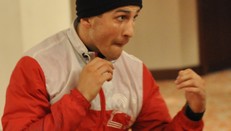 Michal "TNT" Chudecki (5-0-1, 3 KO's) has no time to dwell on the past. After his last fight, which ended up in a draw, his promoter Mariusz Kolodziej decided test his fighter's ability with a risky challenge. In his 7th professional bout Chudecki will face his fellow compatriot and experienced fighter Krzysztof Szot (17-5-1, 5 KO's) on June 29 in Ostroda, Poland.

The 8-round super featherweight bout will be part of the undercard for Skok Wolomin Boxing Show co-promoted by Global Boxing and Babilon Promotion.  Headlining the event will be Polish light heavyweight rising star Pawel Glazewski (20-1, 5KO's). In a co-feature bout, Polish fans will have a chance to see Kamil Laszczyk (13-0, 6KO's). Laszczyk will face an opponent to be named soon, in a 12-round WBO Inter-Continental featherweight title defense.

The rest of the card will be filled up with local talent, including Kamil Szeremeta, Marcin Siwy, Tomasz Duszak, and Michal Cieslak.