WAWRZYK vs POVETKIN - WEIGH IN RESULTS
Ruslan Chikov, Boxingscene
2013-05-17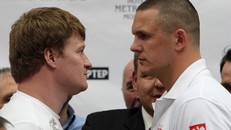 The weights are in for Friday's doubleheader in Moscow, Russia. Undefeated Polish contender Andrzej Wawrzyk (27-0, 13 KOs) will attempt to capture the WBA "regular" heavyweight championship from Alexander Povetkin (25-0, 17 KOs). Wawrzyk weighed in at 232.5-pounds, while Povetkin was 228.3.

In the co-feature, also for the WBA world championship but at cruiserweight - champion Denis Lebedev (25-1, 19 KOs) of Russia came in at 199.2-pounds, while the manadatory challenger from Panama, Guillermo Jones (38-3-2, 30 KOs) was slightly lighter and came in at 198.8.

"I'm excellent and ready to go. Povetkin likes to box at the middle distance, and he is able to counter-attack quickly, so I have to work non-stop in the ring. I think that I have enough stamina to do that. I plan to attack from the very first round. It's a fight for the championship belt, and I will do everything in my power to win the title," Wawrzyk said.