SZPILKA, GLOWACKI, KOLODZIEJ WIN IN RZESZOW
Alexey Sukachev, Boxingscene
2013-05-05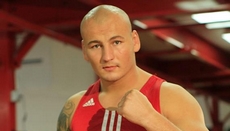 Rzeszow, Poland, 20/04/2013 - It wasn't a satisfying night of fistic joy for rising Polish heavyweight star Artur Szpilka (14-0, 11 KOs). On paper it was the first (or the second - depending on the certain rules of the local federation) round stoppage, however, the Pole's opponent Taras Bidenko (28-6, 12 KOs) retired on his stool between the stanzas due to a right leg injury.

Szpilka, a flamboyant and cocky character, came in with a very hard win over Mike Mollo earlier this year, in which he was forced to lift himself up a couple of times to get a huge knockout win. The 24-year old Pole from Wieliczka picked up from where he left and immediately pressed forward. The Ukrainian, who wasn't seen in the ring for over a year, was dominated, looked lost and boxed on unsteady feet. Moreover, his balance turned even worse when he twisted his right leg during the round. Bidenko fought through until the bell but was forced to quit between the rounds.

WBA/IBF #2 rated cruiserweight Pawel Kolodziej (31-0, 17 KOs) stayed busy in his wait of a huge fight or an occasional shot at the cruiserweight title by outpointing aging former light heavyweight interim champion Richard Hall of Jamaica over eight non-eventful rounds. Jab was a primary weapon for the Polish contender as he kept throwing it time and again against the faded opponent, who looked weary and rusty.

Kolodziej was in full control of the fight, whilst Hall did everything to survive, and survival was his only goal. The Pole had a big opening round, put Hall down with a corker of a right hook in the fourth and was close to get the stoppage in the closing rounds. Final scores were 80-71 (twice) and 80-68 - for Kolodziej.

WBO #8 super featherweight Kamil Laszczyk (13-0, 6 KOs) was forced to work hard in order to score a wide unanimous decision over rugged countryman Krzysztof Rogowski (5-3, 2 KOs). Rogowski was down in the sixth round.

WBO #6 rated cruiserweight (also ranked #15 by the IBF) Krzysztof Glowacki (19-0, 12 KOs) survived some hard moments en route to a good win over the Luxembourg-based Gabonese Taylor Mabika (9-2, 4 KOs). Southpaw Glowacki put his man down with a good counter left hook in the second round, but Mabika (now 0-2 in his last couple of fights) came strong as the fight progressed. It wasn't enough to get him a win but he looked pretty strong and effective to trouble Glowacki from time to time. Official scores were 78-74, 78-73 and 80-71 - for Krzysztof Glowacki. BoxingScene had it 77-74 - also for the Pole.