ITALIA CONFIRMS AGAINST POLAND
Editor, WorldSeriesBoxing
2013-04-04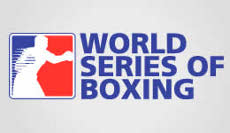 A week after its away 4-1 victory over Hussars Poland, Dolce & Gabbana Italia Thunder has offered the same performance to the audience of Campione d'Italia to reach the World Series of Boxing (WSB) semi-finals. Even without most of their stars, the defending Champions have once again proved on Saturday that nothing will ever be easy for their opponents.

Opening the evening at Bantamweight (50-54kg), Thunder Riccardo d'Andrea was proposed a tough rival in the shape of Dawid Pawel Michelus. Frustrated by the tactic of his opponent - coming as close as possible, infighting - the Italian had a lot of difficulties to keep his calm and serenity. However this anger became an advantage in the fifth and final round when he did put all his strength and power to land a few decisive punches and secure a close but unanimous decision (48-47).

Dolce and Gabbana Italia Thunder was then presenting its superstar Domenico Valentino at Lightweight (57-61kg). Facing the tactician Damian Wrzesinski, Valentino had decided to counter-attack all of his opponent's few though precise punches. With a lot of speed and mobility, the 2009 AIBA World Champion managed to land some furious combinations which impressed the judges all the way. Therefore when the Pole was stopped in the fourth round with a bleeding skull, Valentino was already leading on points and thus recorded his ninth success in his WSB career.

The Defending champions officially confirmed as semi-finalists, newcomer Valter Fiorucci stepped onto the ring with a lot less pressure on him. Opposed to 20-year-old Hussar Ireneusz Zakrzewski at Middleweight (68-73kg), the Italian former pro suffered to find this so special WSB rhythm. He actually never found it and lost unanimously each and every round in this bout, giving the Polish Franchise its sole point in the match.

Next up at Light Heavyweight (80-85kg), Thunder Vitalijus Subacius from Lithuania and Ukrainian Serhiy Radchenko were the only foreign fighters of each team tonight. Extremely powerful, both boxers offered the most exciting fight to the crowd of the Casino Campione. After Radchenko had won the first two rounds, but been sent to canvas in the third, the scorecards were showing 28:28 before the final six minutes. Subacius finally demonstrated a lot of bravery to win this bout, but Radchenko is clearly one to remember.

Heavyweights (91+kg) Matteo Modugno and Michal Cieslak ended with two very different styles. Between the heavy and powerful Italian and the tall and mobile Pole, the debates were very equal over the first two rounds. Slowly but surely, the experienced Modugno started to block his opponent in the ropes and land some strong punches. Cieslak finished exhausted and defeated in his first WSB outing.

Dolce & Gabbana Italia Thunder will now face tough Ukraine Otamans in the semi-finals with the first leg scheduled for 13 April in Italy, and the return one in Kiev on 19 April. Hussars' first WSB adventure is finished but they surprised positively.