SALETA STOPS ANDREW GOLOTA IN THE SIXTH OF BRUTAL FIGHT
Alexey Sukachev, Boxingscene
2013-02-24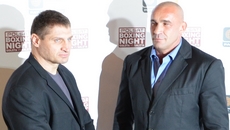 Ergo Arena, Poland - In an all-Polish nostalgic heavyweight encounter, 44-year old Przemyslaw Saleta (44-7, 22 KOs) returned to the ring after seven years of retirement and stopped 45-year old Andrzej Golota (41-9-1, 33 KOs) in the sixth round of a very brutal slugfest.

Golota himself last fought more than four years ago and was lopsidedly dismissed by Tomasz Adamek, who was making his heavyweight debut. His pitch battle with bitter rival Saleta was labeled the battle of the 90's dinosaurs but instead turned out to be a horrific war, which hasn't disapponted anybody.

Both combatants fought with rare vengeance but Saleta looked to be more resilient and prepared. Nevertheless, Golota was giving as much as he was taking in the first two rounds. However, in the third, Saleta was able to put him in big trouble, and Golota needed all his mastery to survive the battering. This mastery included the continuous spitting of the mouthpiece, which prompted referee Leszek Jankowiak to deduct a point from Golota.

In rounds four and five, both fighters traded punches in the centre of the ring, and in the sixth Salet has finally took over with increasing punch output. He started to land his punches at will and finally put Golota down on an accumulation of unanswered punches. making himself the big winner of a real heavyweight contest.

Heavyweight prospect Krzysztof Zimnoch (14-0-1, 11 KOs) had a very short night of work with sub Damian Trzcinski (4-3, 2 KOs), destroying his foe within two minutes of the opening round. Zimnoch dropped his opponent at the end of the first minute with a left-right combo. Trzcinski got up at eight but soon he was sent down again with the same combo. Next for Zimnoch is a bout with Mike Mollo (20-4-1), his bitter rival Artur Szpilka's last opponent, on June 29 in Poland.

Continuing his comeback from a controversial loss to Roy Jones Jr. the last year, Polish light heavyweight Pawel Glazewski (20-1, 5 KOs) put on a boxing clinic against his much less experienced countryman Bartlomiej Grafka (7-6, 2 KOs). Grafka fought valiantly but was just not in the same sentence with Glazewski. The former BBU champion was in full control throughout the entire clash and was rightfully awarded with a ten-round unanimous decision. All judges' scorecards were identical: 100-90 - for Pawel Glazewski.

Dariusz Sek (18-0-1, 7 KOs), a new pupil of Andrzej Gmitruk, the man, who has previously developed Tomasz Adamek, continued his road to the light heavyweight elite with the fourth-round stoppage of previously unbeaten but vastly untested compatriot Remigiusz Woz (5-1, 1 KO). Woz wasn't in the same league with Sek, and that was obvious from the opening bell. In the second round, Sek put his opponent down twice with left hooks, and Woz was very lucky to hear the bell for the next round and was twice luckier to last to the end. However, in the fourth Dariusz Sek connected with a hard and short right hand, putting Woz in trouble for the third time and effectively finishing the contest.

In a battle of undefeated middleweights, Maciej Sulecki (13-0, 3 KOs) dealt the first career loss to Robert Swierzbinski (11-1, 3 KOs), effectively outpointing him over eight one-sided rounds. Sulecki dropped Swierzbinski with a hard right counter in the midst of the second round, then with a left-right combination at the end of the fourth stanza. Robert had little to answer Maciej and deservingly lost in an eight-rounder. Scores were: 79-71 (twice) and 78-72 - for Maciej Sulecki, who is moving on in his career.

Rising Poland-based Nigerian cruiserweight Izuagbe Ugonoh (9-0, 7 KOs) was not tested tough by durable journeyman Lukasz Rusiewicz (13-13-1, 6 KOs) and was lucky to get a close unanimous decision in an eight-rounder. Ugonoh started very fast but Rusiewicz soon adapted his style to the hard-punching Nigerian and gave him fits. A strong finish for Rusiewiczm but all three judges awarded the fight to his opponent: 58-56 (twice) and 59-56. Rusiewicz was stopped just once in his career - on cuts by Enad Licina - despite sharing the same ring with well-known punchers like Herbie Hide, Rakhim Chakhkiev (twice), Troy Ross and Alexander Frenkel.

Continuing his trips from one weight class to another, WBO #10 ranked featherweight Kamil Laszczyk (12-0, 6 KOs) went up to 135 lbs and outfought fellow compatriot Krzystof Cieslak (18-5, 4 KOs) en route to a convincing ten-round unanimous decision. Laszczyk started fast but Cieslak soon found resources to get back into the fight. Up until the midst of the ten-rounder, Cieslak was fighting on almost even terms with the Wroclaw native, but Laszczyk increased tempo down the stretch and effectively outworked his opponent in the closing stages of the contest. All three cards were in his favour: 99-91 (twice) and 99-92.