WEIGHT-IN BEFORE MAJEWSKI-UPSHAW
Editor, Global Boxing
2011-06-11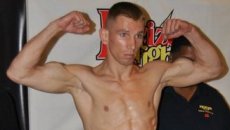 Undefeated middleweight contender Patrick "The Machine" Majewski and Marcus Upshaw both checked in at 159 pounds for their NABO middleweight title fight tomorrow night at the DeSoto Civic Center in Southaven, Miss.
Their twelve round fight is the co-featured bout to "TNT at the DCC," which is promoted by Prize Fight, Global Boxing and Greg Cohen. The main event will feature former heavyweight champion Hasim Rahman against Galen Brown.
The 31-year-old Majewski, whose record is spotless at 16-0 (11 KO), is a native of Radom, Poland now living in Atlantic City, NJ. He was upbeat at the weigh-in, confident that his extensive preparations with head trainer Bill Johnson and conditioning coach Sean Sutton have made him ready for anything.
"We've been training hard for seven weeks because we know this is a great opportunity to get the big fights I want," said Majewski, who has won his last four fights by knockout. "I keep in mind that I have to win this fight because it will put me on the road to the top."
Upshaw, age 30 from Jacksonville, FL, has a record of 13-5-1 (6 KO) that was built against very tough opposition throughout North America. Upshaw was the underdog when he defeated 21-1 Renen St. Juste and 10-0 Ahsandi Gibbs, only to come out on top in the end.
"I respect Majewski," said Upshaw. "I've seen all of his fights and I know he's good. Tomorrow we're gonna dance."
Tickets for TNT at the DCC are on sale now and are BUY 1 GET 1 FREE! Tickets can be purchased at the DeSoto Civic Center Box Office, by calling Ticketmaster at (800) 745-3000 or by visiting Ticketmaster online at www.ticketmaster.com. Tickets are priced very affordable beginning at just $25.
Doors for the event open at 7:00 PM and the first bout is slated to begin at 7:30 PM. "TNT at the DCC "will be broadcast via tape delay on Fox's Sportsouth network throughout the southeastern United States on Comcast and nationally on DirectTV and DISH Network, reaching nearly ninety million homes.