KOWNACKI: BOXINGS REBIRTH OF THE HEAVYWEIGHT
Michael Havaien, globalboxing.com
2010-05-05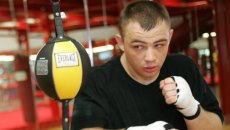 It's been quite some time since we've had an up and coming heavyweight champion in America. We have seen the likes of past heavyweight champions Lennox Lewis, Evander Holyfield, Mike Tyson and George Foreman but they have all seemed to fade with the ticks of time. Absent are the days of the 15 second super fights of two heavyweights jabbing and hooking until one timbers like a forest tree falls. But now, we have gained new optimism. That optimism stands about 6 foot 3' inches tall and weighs a promising 230lbs. That optimism that I so highly speak of is named Adam Kownacki. Kownacki is a native of Lomza Poland and moved to Greenpoint in Brooklyn, NY by the tender age of 7.
After moving to NY he attended Lincoln High School in Coney Island, where he began to encounter the adversity that comes with facing an unfamiliar and challenging environment. Having a love for fighting and using it as a conduit to release his frustrations, Adam began boxing part time after school. Pattering his work ethic after famous boxers Floyd "Money" Mayweather and Polish heavyweight star Tomasz Adamek, Adam began his career in amateur boxing. After training for several months, Adam competed in and gained his first TKO in the second round of his second bout. At the young age of 16, the experience of his first knockout was so exhilarating it overwhelmed him. It was so overwhelming, that Adam started to dance. " I was so happy after winning my second fight by TKO, that I couldn't control myself and began dancing! I trained so hard and wanted to do my best in front of all of my friends and family. I knew that most people doubted me and thought I would never become a good boxer."
After winning several fights, Adam trained for and competed in the NY Golden Gloves. After competing in the gloves, Adam went on to gain four appearances in the Golden Glove finals and win two state Golden Glove Championships. He continued his amateur career and ended it by posting and impressive 23W and 7 L record with 10KO's respectively. After ending his impressive amateur career, Adam was intent on setting his sights on much bigger and bolder accomplishments. After further discussing his future with his trainer and family, Adam decided to turn professional.
Pursuing his professional career, Adam went on to spar against top heavyweights Mike Mello, Derrick Rossey and Jason Estrada and has worked in several pro camps in preparation for his own upcoming bouts. Posting a 2-0 record as a pro with 2KO's, he has enlisted the help of Team Global: Head Trainer, Leon Taylor, his 2nd Michael Havaien, strength and conditioning coach, Marcin Machula and his manager and owner of Global Boxing Mariusz Kolodziej to help in preparation for his May 22nd showdown with Yohan Banks. The fight is scheduled to take place in Tunica, Ms at Fitzgerald's Casino and will be aired on FOX SPORTS south at 7:30pm standard eastern time. Banks 3-3-3 is a game opponent for the young Kownacki and has proven to be a tough contender for the up and coming heavyweight. With comparisons to past polish great Andrew Golota and possessing similarities of a young Mike Tyson, Kownacki can prove to be the heavyweight divisions next big thing.