Q&A: TOMASZ ADAMEK
Przemysław Garczarczyk, fightnews.com
2010-04-30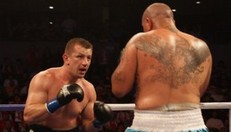 What happened behind the scenes inside Tomasz Adamek's training camp? What are his thoughts after the twelve round war against Chris Arreola and what does he think about the "Nightmare?" What are his best options for the future? All is revealed in this exclusive interview with the new Polish heavyweight sensation and his manager/corner man Zyggi Rozalski.
-Tomek, did you already watch your fight on TV?
No time, but hopefully I'll have a chance to do so in the next couple of days. I heard that we delivered a great show with Chris. Maybe I'll have some fun watching it…
- Everybody knows how hard fighters work during the grueling months before every fight. But how do they recuperate lost energy afterwards?
I don't really know, because, seriously, I'm fine today, with too much energy. This is what everybody else is saying, anyway. Imagine – I went shopping with my wife! More seriously – I've been traveling for the last 20 years, so every moment I can spend with my family, wife Dorota and daughters, 13-year-old Roksana and 10-year-old Weronika, it's a great one.
- Don't tell me that you already scheduled couple of hours with your favorite pastime – playing tennis?
The only reason why is there are blisters on my feet. I want to play some tennis this weekend, not later than that. Those damn blisters – for three days in Ontario, I was chained to my bed, only thing I could do was just surfing the net. Could not, even gingerly, walk for more than 15 minutes. It was bad.
- Fans will tell us that we did not report this before fight.
This and a lot more as you very well know. Simple reason: Chris' people know their job. They could use all the info against us. We didn't report that for two weeks I had to receive a special treatment for my back problems or that in the last minute of the last sparring session, my sparring partner blocked my right uppercut with his elbow. He hit me exactly one inch behind gloves padding. Couple of hours later, this dark thing was the size of small apple and we all, me and Roger (Bloodworth) and Ronnie (Shields) had the same thought: that's it, broken bone in the right hand, game over, fight over, all the sweat and tears wasted in the last minute. It got better, it wasn't a broken bone, but nobody could predict what would happen if Chris hits me in the same spot with his big elbows.
- You had enough on your plate anyway: Arreola charging at you like bull fighting a toreador, flapping the soles of your Everlasts…
It was crazy. I started feeling that something is wrong, something was flapping. I lost contact with the ring surface. Began jumping on one foot, not wanting to lose siight of Chris' eyes, because I knew so well that the moment I start looking down what's going on there, Arreola can unload one of his bombs and the fight could be over. I never experienced anything like it fighting or watching boxing on TV. Everlast shoes, never used, bought five days ago. I had to bite my teeth and punch back, waiting for the break to fix it. Everlast should offer me an advertising contract because never before have they had as many HBO close-ups (laugh).
- Competition teaches you how to win and how to lose and both are very important – this is one of your favorite sayings. Chris Arreola proved that you can be great in defeat, congratulating you, and partying long hours with your hard core, white and red wearing fans after the fight.
He was great. In this fight nobody really lost. We both delivered a spectacular night of boxing. Chris deserves great applause and he deserves another great fight from a major TV network. I still hope he'll accept my invitation and have dinner with me in New Jersey. He can bring his Corona, I'll supply great Polish highlander food (my wife is a great cook) and unlimited supplies of my beer, Zywiec. Let's have a different battle. He already knows I have a strong head.
- You will most likely fight again in early autumn. Your fans will say that you gave them reasons to cheer you every two months?
This was crazy, like from Guinness Book of Records. Three fights in the heavyweight division, against very different fighters in seven months? Practically, since Steve Cunningham fight in December of 2008, I'm finishing one fight and starting another training camp, practically without a good, long cool down time. We do have an HBO date, but for us the most important is to be prepared for my number one goal – a world championship fight. This will be a decision made by my training and promotional team and my manager, Ziggy Rozalski.
Przemysław Garczarczyk
garnekmedia.blogspot.com
---
Zyggi Rozalski – one of the more colorful people in a very interesting sport…how many managers works as corner men? – knows exactly what the priority is. A self-made man, very successful businessman who treats working with best Polish boxers (he guided Andrew Golota career) more like hobby than a way of making money, always had a plan.
"Tomek is not my business partner – he is my friend" – said Ziggy. "I treat them all, his family, like my own family. Tomek is now the hardest working man in the boxing business, but he needs to slow down. I will discuss his next move with my advisors and then we'll make an educated decision. It's unbelievable how much we accomplished in such a short time. In less than five years, the light heavyweight championship, undisputed cruiserweight championships, and now top five in the heavyweight division, status of title contender. Tomek lives in the States for only 18 months and we have a fan base that pays for tickets comparable to such great stars like Floyd Mayweather Jr. or Manny Pacquiao. It was the work of Team Adamek, people who you not always see in the limelight, but without them it wouldn't be possible.