ADAMEK DECISIONS ARREOLA
Felipe Leon and Francisco Salazar, fightnews.com
2010-04-26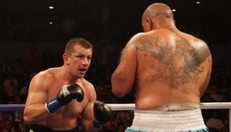 With a sizable contingent of his fellow countrymen in the stands, two time world champion Tomasz Adamek (41-1, 27 KOs) of Jersey City, NJ, by way of Zyweic, Poland, successfully defended his IBF International heavyweight title over Chris "Nightmare" Arreola (28-2, 25 KOs) Saturday night at the Citizens Business Bank Arena in Ontario, Calif. The 12-round war had a series of ebb and flow, as well as high drama that made it into one of the most exciting fight between big men in recent years. The atmosphere was electric as the battle raged inside the ring as well outside of it with the fans of each fighter fighting to be loudest.
Judge Tony Crebs scored it a draw with a score of 114-114 while Barry Druxman saw it 115-113 for Adamek and Joseph Pasquale also scored it for Adamek with a 117-111.
"By far this was the toughest fight of my life," Adamek stated seconds after the decision. "That is why I believe I can be a world champion."
"Adamek is a great fighter. I hurt my hand in the fifth round but I kept going," the outspoken Arreola stated. "I hurt it again in the ninth and the tenth real bad. He's got a hard f'ing head. He hit me so hard, I look like f'ing Shrek now."
Read more on fightnews.com