ADAMEK vs ARREOLA FINAL PRESSER
Przemysław Garczarczyk, fightnews.com
2010-04-20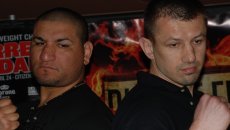 Chris "Nightmare" Arreola (28-1, 25 KOs) without a doubt has been working hard. "This guy wasn't lazy. That's for sure," said Roger Bloodworth, Tomasz Adamek's (40-1, 28 KO) trainer judging the new, slimmer physique of his fighter's upcoming rival on Saturday. "It makes no difference to me. I was preparing for Chris having the fight of his life, and still beat him," said Adamek.
This time, just five days before a very important fight for the future of both of them (the winner has an almost sure shot for one of the Klitschko brothers or David Haye), everybody was in the great mood, just waiting to go into the ring.
"Last days are the toughest. On the one hand you know it's time to gather all the strength and get hungry for boxing, but I'm already hungry and want to fight," said Adamek.
Looks like everybody knows what strategy Polish former light heavyweight and cruiserweight champion of the world wants to employ (ring quickness, hand speed and iron stamina) against Arreola, so most questions were about his state of mind after the tragic plane accident which wiped most of the Polish government, including the President and First Lady.
"It was a shock. I voted for this President. I was a strong supporter of his politics. On the other hand, I know what my job is and to succeed in the ring you have to have a strong mentality. I could grieve and focus on training at the same time. My faith gives me this strength," said Adamek.
Chris was his usual self – funny and to the point. "We all want to give people what they want, a great fight and something to talk about. I love to work at home and hate to train in Big Bear. It's like prison, you don't know anybody there; don't feel right because you don't even know places where you can have a good meal. I loved my training camp and want to thank one of the sponsors, Corona beer for making me a heavyweight," said Arreola.
Funny stuff aside, both promoters, Dan Goossen and Kathy Duva believe that this Saturday we'll witness something special at Citizens Business Bank Arena in Ontario. "Maybe even two candidates for the fight of the year. First the Joel Julio vs. Alfredo Angulo fight, and then Adamek vs. Arreola. Something like this – after first fight, fans are saying 'I just watched fight of the year,' and then the big boys are coming and you have the same spectacular performance. We had this with Arturo Gatti," said Duva, who represents Julio.
Przemek Garczarczyk
garnekmedia.blogspot.com