KOŁODZIEJ-KRENCE FOR WBF ON SATURDAY
Przemysław Osiak, Own source
2010-03-18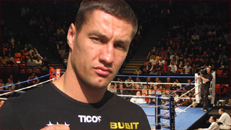 Paweł Kołodziej (23-0, 12 KO) will try to remain unbeaten after a 12-round fight for the vacant WBF cruiserweight title against Mark Krence (24-6, 6 KO). The contest between the Polish prospect and 33-year-old "Butcher" will be the main event of the show scheduled on March 20 in Strzelce Opolskie, Poland.
Originally, the 25-year-old Kołodziej had to defend his IBC title in the upcoming bout but the decision was changed a few days ago. - WBF is more active and dynamic than IBC, so when the opportunity of the championship fight occured, we decided to take it without thinking – explains Andrzej Wasilewski, the promising Pole's promoter. According to "The Ring" magazine, Kołodziej is one of the most interesting prospects of the world. The Pole is highly rated in rankings of the world's top federations: WBC (#8), WBA (#13) and IBF (#15).
Apart from Kołodziej, there will be a chance to see a contender to the IBF welterweight belt, Rafał Jackiewicz (35-8-1, 18 KO). The "Braveheart" will face 35-year-old Turgay Uzun (31-12-2, 19 KO) from Turkey. Another undefeated Pole who will try to show his best is Andrzej Wawrzyk (17-0, 10 KO). The '87 born heavyweight will come face-to-face against experienced Lee Swaby (25-23-2, 11 KO).
Wojak Boxing Night
Strzelce Opolskie, Poland
March 20, 2010

F i g h t C a r d :
WBF World Cruiserweight Title – 12 Rounds
PAWEŁ KOŁODZIEJ (24-0, 13 KO) (Poland) vs MARK KRENCE (24-6, 6KO) (England)
Heavyweight – 8 Rounds
ANDRZEJ WAWRZYK (17-0, 10 KO) (Poland) vs LEE SWABY (25-23-2, 11 KO) (England)
Welterweight – 8 Rounds
RAFAŁ JACKIEWICZ (35-8-1, 18 KO) (Poland) vs TURGAY UZUN (31-12-2, 19 KO) (Germany)
Lightheavyweight – 6 Rounds
MACIEJ MISZKIN (5-0, 2 KO) (Poland) vs MARKO ANGERMANN (2-1, 1 KO) (Germany)
Welterweight – 4 Rounds
SŁAWOMIR ZIEMLEWICZ (19-6-2, 3 KO) (Poland) vs (0-6) MEHMET TANRIVERDI (Turkey)