KOŁODZIEJ vs CALLOWAY IN ŁÓDŹ ON DECEMBER 18TH
Przemysław Osiak, Own Source
2009-12-03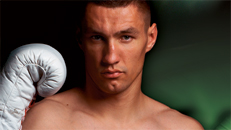 The clash between undefeated Paweł Kołodziej and Rob Calloway for IBC cruiserweight title will be the main event of the boxing show organised by Bullit Knockout Promotions on December 18th in Łódź, Poland.
- The fight against Calloway will be a test of my means. I respect his experience but I believe that if I box wisely and take advantage of my height, I will leave the ring as a winner - said 1,95m tall Kołodziej.
During the same evening, 22-year-old Andrzej Wawrzyk will fight the mostdifficult battle in his career. The rival of the WBC Youth heavyweight champion will be a two-time participant of the Olympics and the gold medalist of world amateur championships Alex Mazikin.
- Mazikin is the strongest opponent I've ever fought but I'm ready for him. My sparrings are proceeding successfully. I'm glad about my fit, I've prepared myself for full 10 rounds but if I manage to, I will try to finish the fight in a knockout.
Moreover, on the undercard appear also: 6# rated in the WBC light heavyweight ranking Dawid Kostecki, the WBO-Intercontinental welterweight champion Krzysztof Bienias, a cruiserweight prospect Lukasz Janik and a light heavyweight Maciej Miszkin.