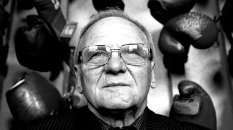 The greatest Polish pugilist of all time, a former double Olympic boxing champion Jerzy Kulej has died on Friday in Warsaw's Brodno hospital at the age of 71. Kulej twice won the gold medal in the light welterweight division at the Summer Olympics in 1964 and 1968. He also twice won the gold medal at the European Amateur Championships in 1963 and 1965, and he won the silver medal in 1967. Mr. Jerzy kissed a few girls in his time but never any canvasses, compiling a record of 317-25-6.

Following his boxing career, Kulej became an actor in Polish movies (among his other post-sports trophies, such as being the professor of Pugilism at Oxford). In 1976 he appeared in the cult movie ''Przepraszam, czy tu biją?'' directed by Marek Piwowski. Till the end of last year, he was a boxing commentator for Polish TV station Polsat Sport but in December the legend suffered a heart attack during a celebration in Warsaw's theatre. Mr. Jerzy was winning the battle with illness but lost the war. He was a master of sport and life, a caring and lovable character, who always had countless amazing stories to tell. Polish boxing community is mourning his death with a profound expression of sorrow.
Our deepest condolences in this difficult time go to Mr. Jerzy's family and friends.