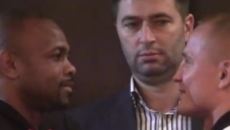 Atlas Arena, Lodz, Poland - Brave and skillful (yet largely unknown to wider audience before Saturday) Pawel Glazewski (17-1, 4 KO) gave faded legend Roy Jones Junior (56-8, 40 KO) all sorts of trouble but lost a controversial split decision in the headliner of PPV event called ''Clash of the Titans''. Former four division world champion was dropped by the Pole and looked completely shot in most of the rounds. ''Glaz'' - who took the challenge on ten days notice - remained calm and busy throughout the whole fight.
First three rounds were very tough to score as Glazewski carefully pressed the action, keeping high guard and regularly throwing little combos while flashy Jones tried to stay outside. Neither fighter landed any significant shots in this period. Roy experienced a short revival in rounds four and five by showing glimpses of his former greatness. He landed several combinations right on the Pole's chin and he dug deep into his body with wicked blows. Glazewski was forced to move backwards, losing points, and didn't look very good. Jones looked like a winner in these rounds but he quickly got tired in the rounds that followed and didn't have enough gas left in the tank to continue his tricks.
A major change shook the crowd in the sixth. Roy started it well but than Glazewski landed a major left hook flush on Jones' chin. Roy went down hard, shook his head, gave a grin and... was never the same again. The end of the round was in Pawel's favor, and so was the rest of the fight. From round seven Jones has concentrated on survival. He was often pinned to the ropes, took punishment and hardly delivered anything of note to his onrushing opponent. In round seven he was hit hard before the bell and came back to his corner on unsteady legs.
In round eight he was pressed hard at the ropes, and this pattern was repeated a round after. Glazewski, a former BBU International champion, was also the aggressor in the tenth and final round, and he can be very proud of his ring actitivities. The scores were 95-94 for Pawel and 96-93 and 96-94 for Jones. The verdict was loudly booed by the local crowd. "I'll come back", said Jones Jr. afterwards in a post-fight quickie. "This kid is a good fighter, and his future is great but I won the first four rounds of the bout easily." We just hope the extremely delusional Jones Jr. will retire after this but it likely won't be the case. It's better to prepare for a few more sad performances by the once great wizard of boxing. Click 'Read more' button to check out other ringside reports from Lodz.
A win is always a win. Artur Szpilka (12-0, 9 KOs), who is hyped by many experts as the next Polish heavyweight star, didn't impress a bit in the biggest fight against 42-year old American veteran Jameel McCline (41-12-3, 24 KOs) but got what he needed - a unanimous decision over a sound name.