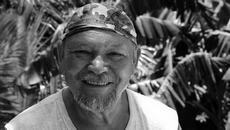 It is with great sadness that we inform of today's (April, 28) passing in Ottawa, Canada, of Dr. Maciej 'Matt' Mizerski, age 69 (born August 15, 1942). He succumbed to cancer at 6:40 that morning, after a year and a half of illness. His twin brother Jacek Mizerski told us that Matt was courageous and valiant until the very end, but the unappeasable illness overcame him.

Maciej, the son of pre-war top Warsaw boxer Piotr "Klimek" Mizerski, was connected with boxing practically throughout his entire life, with plenty of boxing-related ideas coming to him even to his last days, when the illness prevented him from implementing them. He will remain in our memories as an excellent coach and trainer (he trained the phenomenal Lennox Lewis, among others), the respected head of Canadian amateur boxing federation and the paramount expert on Olympic boxing. Maciej was our guide to the fine points of boxing, not only in its amateur aspect. It was a great honour to BOKSER.ORG to have in him both a correspondent and a partner in conversations concerning more than sports. We hold dear those memories.

Our deepest condolences in this difficult time go to Maciej's family and friends.