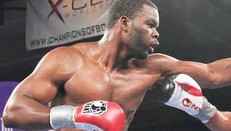 We are speaking with Michael Grant (37) (46-3, 34 KO), Tomasz Adamek's opponent (33) (41-1, 27 KO), with whom he will be fighting on the twenty-first of August in the Prudential Center in Newark, NJ.
- Why are you fighting with Adamek?
MG: This fight is a great opportunity for me to break into the heavy weight game of boxing. Once I beat Adamek I will be back on the map of popular boxing. The Polish boxer said that he is a real heavy weight boxer. I have a lot of respect for him and I am very happy that I have a chance to fight against him.
- Does it make you nervous when Adamek says that this fight with you will be a preparation for him to his fight with one of the Kliczko brothers?
MG: He can say whatever suits him. I am assured that he will not be an easy opponent. I am preparing for this fight as if I were to win it. This will not be a walk in a park for Adamek. I will be the new heavy weight champion.
- Will you beat Adamek just as you beat Golota in 1999 in Atlantic City?
MG: I dont know if the same way, but I will beat him. Right now I am at home in Atlanta. But soon I am flying to Las Vegas where I will have my training camp to prepare me for the fight with Adamek with my trainer Eddie Mustafa Muhammad. There, we will work on a plan to defeat Adamek. Eddie prepared Chad Dawson to fight Adamek, which Chad then won. He will help me as well. I'm in great shape, I am full of energy and I can't wait for this match. My faith also gives me great strength.
- Why did you become a boxer?
MG: I don't even know (laughter) I had a talent for many sports. I played football and many colleges offered me athletic scholarships. I chose boxing because I had the greatest talent for it. God made it that on my path I met the famous box judge, Richard Steele. He saw boxing potential in me and talked me into a boxing career. I never regret that decision.
Marta Kossecka-Rawicz
Michael Grant was born on August 4th in 1972 in Chicago. He is an American heavy weight boxer. He fought only 12 amateur fights, he won 11. HE debuted as a competitor in 1994. His first more serious opponent was Corey Sanders. Grant KO'd him in the second round. September 20th 1999 he fought Andrzej Golota. This fight made his fight with Lennox for the world championship possible. In the first round Grant was layin on the floorboards, but yet he came out victorious despite the slow start. In the tenth round with Golota, after getting up from the KO's, he refused further fighting. 29th of April 2000 Grant and Lewis fought. The Brit defended the champion belts og organizations IBF and WBC. WBA said no to the fight with Grant, which is when he lost the title. Lennoz Lewis ended the fight by knocking Grant out in the second round. The next fight was also quick for Grant- this time in the first round with Jameel McCline. From this moment on Grant fought eleven more fights, for the most part with boxers of a lesser caliber. He won ten of them. He lost one of them- through a technical knock out in the seventh round- This happened with the classiest boxer from that region, Dominick Guinn. After a two year break, Grant returned to the ring. In June 2007 through a technical knock out by Billy Zumbruna and in September by Kevin Monty.