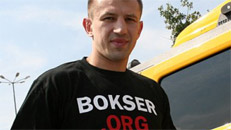 Tomasz Adamek (36-1, 24 KOs) is to have his first IBF cruiserweight title defense on February 27, in the Prudential Center hall in Newark, NJ. He will face an American fighter, the as yet unbeaten Johnathon Banks (20-0, 14 KOs).

Here's a transcription of an interview with "The Highlander", who will defend in the forthcoming fight not only his IBF belt, but also the top place among the world's boxers in the 200 lb limit.
Michal Koper: Tomek, BJ Flores backed out from facing you at the last minute. Was such a turn of events a disappointment for you?
Tomasz Adamek: It's a rare occasion that somebody offered a title shot resigns from it. Apparently the guy judged the challenge to be too steep and he decided to bide his time.
MK: You think he got scared of you?
TA: I wouldn't give up a title fight. Sometimes you have to take some risks.
MK: How is the case with the Jonathon Banks fight? Is the contract signed already?
TA: The formalities aren't done yet, you don't sign a contract in a day, there's procedures to be followed, but everything has been ironed out and as for today I can state that I will meet Banks in the ring. He agreed to the fight, I did too. The official contract will be signed next week, most probably.
MK: After Flores backed out, did you consider any other opponents besides Banks? Braithwaite, for instance?
TA: The opponent selection wasn't up to us. It was the Showtime network that did it, they felt Banks was the best choice and theirs was the deciding voice in this matter.
MK: Have you seen him in action?
TA: I saw him against Vincenzo Rossito.
MK: Do you see him as a comfortable opponent, so to say? He's a big guy, after all, 6'3", he packs a mean punch...
TA: I've got to go out and face him, no matter what he is. If I'm to be the best, I have to fight all comers. I have no doubt I will best him, I will show good boxing again. I ought to be fast compared to him. From what I've seen, he's a tad slower than me. I count on speed to be my trump card in this fight.
MK: Do your promoters have any plans already, regarding your career path afterwards? The top cruiserweights, besides Steve Cunningham or Guillermo Jones perhaps, are all in Europe these days...
TA: That's not my bailiwick. I have to win against Banks first. Then, I hope, we'll strike a major deal with one of the big names - Ziggy Rozalski talked to Roy Jones, Jr.'s manager about a possible fight in June. We'll see... Truth is, in the States everything is decided by the TV networks, they put up the big money and we have to adjust to their demands.
MK: So the names will be the priority, not necessarily the further title defense fights?
TA: Yes, obviously. It's the names that bring in the audiences. When you win against a major name, you become a name in your own right. That's how the machine works, that's how this business operates...
MK: Some polish fans ask themselves whether your career will follow in the path of Andrew Golota - whether you'll grab a fight soon against one of the absolute top boxers and lose to him...
TA: I'll be 33 this year, not getting any younger, and I don't plan on boxing into my forties. If I get a big fight now, I'll take it.
MK: How many professional fights do you see ahead of you, then?
TA: I have no idea. This year, after Banks we plan for another fight in June and one more in autumn. So, three this year.
MK: Have you considered a rematch against Cunningham?
TA: If Cunningham pushes through to have the rematch, I will fight him. I'm not afraid of anyone.
MK: Banks will have Emanuel Steward in his corner, the coach who prophesied big things for you in the very beginning of your career. Do you think he'll be able to "lay you out" for Banks?
TA: I'm not wholly convinced that Steward does work daily with Banks. From what I've heard he is more of a promoter for Banks than a coach.
MK: When will your coach Andrzej Gmitruk join you?
TA: I expect him to fly in somewhere in the middle of the next week.
MK: Are you constantly in training?
TA: Of course. From Monday I've been having physical workouts twice a day, to improve strength and stamina. I work out hard at the gym.
Tomasz Adamek won the IBF cruiserweight title IBF on 11 December 2008, winning against Steve Cunningham on points. Prior to that, in 2005-2007, he was the WBC light heavyweight champion.